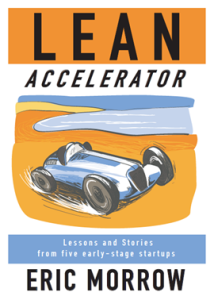 Lean Accelerator: Lessons and Stories from Five Early-Stage Startups was written by TractionTank Co-Founder, Eric Morrow. Our blog posts featuring excerpts from Lean Accelerator are posted here with his permission. All TractionTank applicants receive a free digital copy of Lean Accelerator upon completion of our online application.
LESSONS LEARNED (PART 1)
Steve Blank uses the last official class session to have the teams present their lessons learned. Here are his exact instructions on how to prepare a lessons-learned video, copied directly from the Lean Launchpad. I thought the instructions were so good that I could not further improve on them. And from the quality of the responses, it seems that was a good instinct to have.
Note: The following is taken from Blank's Lean Launchpad Educator's Guide, which you can find in its entirety here.
Loads of examples and info for lessons learned
http://www.youtube.com/watch?v=ZyGr-eoONqo
http://www.youtube.com/watch?v=7bJ8rd1dxy8
http://www.youtube.com/watch?v=S7H0LZWVt0I
RedOx team from Yale: http://www.slideshare.net/sblank/redox-final-nsf-presentation
NeonLabs from Carnegie Mellon University: http://www.slideshare.net/sblank/lighttip-nsf-final-presentation
Phioptics from the University of Illinois: http://www.slideshare.net/sblank/phioptics-nsf-final-presentation
OmegaChem Iowa State University: http://www.slideshare.net/sblank/omegachem-nsf-final-presentation
City Climber team from City University of New York: http://www.slideshare.net/sblank/city-climber-story-video-nsf
Soliculture team from UC Santa Cruz: http://www.slideshare.net/sblank/soliculture-story-video-nsf
Story video Details (2 minutes)
If I can replace your team name and get the same story, that is BAD! Be unique! Be very specific! (note: my addition, the rest is from Steve Blank's curriculum)
Think of the story video as the heart of the team presentation as told through video.
Suggested Story Video outline:
What are your names and what is your team's name? Introduce yourselves. Pan the camera around your office so we can see where you work.
How many customers did you talk to?
Did you find this easy? Hard at first?
When you started the class, what was the most important thing you thought you would have to do to successfully launch a scalable startup?
How do you feel about that now?
Thinking back across the class, who was the most interesting customer you met and where did you meet them?
What happened?
Why, specifically, was this your most interesting customer conversation?
And how, specifically, did your business model change as a result?
Now that the class is over, what was the most surprising thing you learned in the class?
Lessons Learned PowerPoint Presentation (8 minutes)
The "lessons learned" slide deck is a very short list of definitions and simple declaratives that are intended to increase the quality of the presentations. Here it is, in full:
Story.
Be specific.
Show me, don't tell me.
Arcs.
Beginning, middle, end.
Character, setting, plot.
Editing.
Notes.
Look before…
Practice!
Be specific.
Use (or enhance) the diagrams you developed in weekly presentations to illustrate these points.
Common Student Errors: Presentation and video
Students often make very bland story videos:
They don't naturally hone in and choose very specific details of their technology, their customers, and their learning process. This is essential—the more specific, the better. (Note: I overemphasized this part. I wanted very specific details about what the students did over the summer.)
It is only through the specificity of a storyteller that an audience can extrapolate to generality, which is what teams would want an investor to do. Students often spend time thanking instructors, speaking excitedly about the Lean Launchpad program, or making cheeky references or inside jokes. This is a huge mistake, and can make their presentation feel like a junior high school Science Fair project. Students should spend absolutely zero time on any of these topics, and all meta references to how important teamwork is should be aggressively cut. This is very hard for many students to internalize.
None of that has any place in a 2-minute video about a real company that is actually trying to raise real money from real investors. Investors will ascertain team dynamics for themselves when they meet a company and get to know the people involved. Students think they need to tell a whitewashed success story: This is another big mistake, and will damage their attempts at getting subsequent financing.
Students must strive to tell the authentic, honest story of their successes and mistakes, pitfalls, discoveries, and pivots.
Most importantly, students must talk in the most specific terms possible about the customers they actually met, what they actually said, and how that changed their Business Model Canvases.
***Apply now and receive a free digital copy of Lean Accelerator! ***
The following two tabs change content below.
Eric Morrow is passionate about helping businesses figure out the best way to connect with their customers. As a digital marketer, growth expert, and teacher, his work has taken him across the US and Europe while working for Google, IBM, American Express, GE, Visa, Staples, Retention Science, JP Morgan Chase, and many more. The author of "Digital Marketing for Everyone," a five-star reviewed book on Amazon, Eric has helped hundreds of creative individuals start small businesses, develop their products and build a customer base. In his spare time, he raises seeing eye dogs.
Latest posts by Eric Morrow (see all)