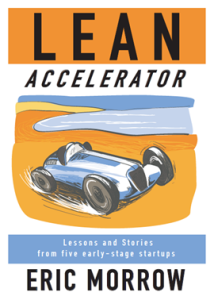 Lean Accelerator: Lessons and Stories from Five Early-Stage Startups was written by TractionTank Co-Founder, Eric Morrow. Our blog posts featuring excerpts from Lean Accelerator are posted here with his permission. All TractionTank applicants receive a free digital copy of Lean Accelerator upon completion of our online application.
LESSONS LEARNED (PART 2)
Lessons-Learned Presentations
The links below will take you to the videos the students prepared for their lessons-learned presentations, the actual lessons-learned presentations themselves, and the Demo Day presentations. For a collection of these videos in one easy-to-watch place on the web, please visit my blog.
1. Driven Analytics view presentations (video)
2. Levaté view presentations (video)
3. Icarus Aerial Technologies view presentations (video)
4. XiP Technologies view presentations (video)
5. Sower Publishing Group view presentations (video)
My thoughts on what the students said they learneD
The first thing I thought when I saw the final presentations was, "wow!" I was blown away by the quality of the videos, the presentations, and what the students said they learned. There was a heavy emphasis placed on really listening to customers, selling and scaling/scrambling/building, and Elaine Hamm from i2e identifying good challenges to the businesses.
Also:
Learn who your customer is by trying to sell them (getting out of the building).
Spend time with your customer learning about them.
Seize unexpected opportunities that arise!
Research and talking alone doesn't find customers.
Cash validation is powerful validation.
Look for shark bite interest (vs. mosquito bite).
Power of the prototype—show people your device actually working (pictures/videos/real life).
Power of cold calling—hunt down your customers.
Testing the market by selling and looking for commitments is more effective than relying on people's excitement.
You need to verify and validate that the personal pain you feel is also felt by others.
Fear is limiting and prevents you from learning.
My lessons learned from running my first Accelerator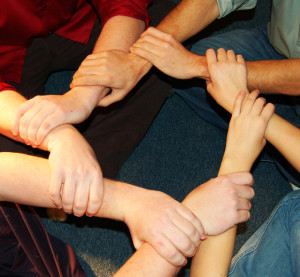 The teams invited me to one last get-together after the Demo Day on Thursday morning. Besides giving me two awesome farewell gifts (a cowboy hat and a Thunder t-shirt), they also gave me a lot of feedback on the program. Here is what I want to work on for the Accelerator program.
Making classes more collaborative—A lot of class time was spent working within a team on preparing experiments and doing exercises. Next time I'll shuffle up the teams during class a bit more to encourage the exchange of ideas.
How to build a sales and marketing funnel—We spent a fair bit of time on this during class, but there was a demand for more information. I think these class sessions could have had expanded hours.
Put learning to talk to customers earlier—The teams wanted more training with talking to customers earlier on. I think this is a bit of a chicken-and- egg thing. The students only knew they needed to get better after spending a few weeks talking to people and not being happy with the results.
Preload legal, so hit the ground running on Day 1—The legal matters did dominate the first few weeks of the Accelerator. However, all the documents are now available, and this problem should be resolved for the next iteration.Get word out sooner—Similar to the legal issues, now that we have done the Accelerator once, advertising has already begun for next summer's iteration.
Going to an art museum or other creative place—The summer was intensely focused on running experiments. I think there could be other opportunities, outside of the team dinners, where the students could have mingled with each other in different environments. I would like to introduce more activities into future iterations of the Accelerator. Also, possibly take a team trip.
Getting people's feedback on the design of the experiment, or as a whole—This was a big piece of feedback and pointed to my over-involvement in the critique of an experiment. Next time I need to do a better job stepping back and allowing the teams to self-critique.
Purpose of the blog—I was not clear with the purpose of the team's blog. The teams understood it to be purely for documentation of each week's experiments. Instead, it was meant to track the startup's progress over the life of the Accelerator. Now that I have some example blogs to share with the next Accelerator class, I think this issue will be easy to resolve. The students said to say to future students:
Document your thoughts on the blog.
Use it as a time line about what you're working on.
Lessons-learned log book.
Describe what you're trying to solve and what you're trying to learn.
Include your experiments.
Standard way of teaching guest classes—Each guest class ended up being a bit different, and the more effective ones were where the guest teacher worked with me on the curriculum. Good classes are exercise-based, but this is not how everyone prepares for a class. The students also asked for office hours with the outside teachers to complement the classroom component. That way each team could get more personalized advice from the people coming in to teach.
Big format canvases—One comment from week one was that we filled out the canvas on 8.5 x 11 paper, and that was too small to be helpful. So one of the team members went to the print shop and printed out a medium-size version and a large version. The test was to see which paper the students took to actually work on, and the jumbo-size one won hands down! It was much better for sticky notes, which meant rather than literally rewriting the canvas each week, just the sticky notes could be updated.
Office hours—Office hours were barely used over the summer. I think having the Accelerator in this format , where we were already seeing each other three times a week, that extra office hours were not needed.
***Apply now and receive a free digital copy of Lean Accelerator! ***
Photography credit: FreeImages.com/Julia Freeman-Woolpert
The following two tabs change content below.
Eric Morrow is passionate about helping businesses figure out the best way to connect with their customers. As a digital marketer, growth expert, and teacher, his work has taken him across the US and Europe while working for Google, IBM, American Express, GE, Visa, Staples, Retention Science, JP Morgan Chase, and many more. The author of "Digital Marketing for Everyone," a five-star reviewed book on Amazon, Eric has helped hundreds of creative individuals start small businesses, develop their products and build a customer base. In his spare time, he raises seeing eye dogs.
Latest posts by Eric Morrow (see all)